Megan worked as a journalist covering real-life dramas before she decided she liked writing her own endings better and switched to fiction.

She lives in Pennsylvania with her husband, two kids and two cats. When she's not tapping away on her laptop, she's probably listening to the characters in her head who won't stop talking.



____________________________________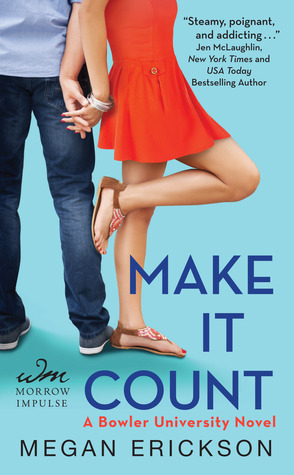 Kat Caruso wishes her brain had a return policy, or at least a complaint hot-line. The defective organ is constantly distracted, terrible at statistics, and absolutely flooded with inappropriate thoughts about her boyfriend's gorgeous best friend, Alec…who just so happens to be her brand new math tutor. Who knew nerd was so hot?

Kat usually goes through tutors like she does boyfriends—both always seem to bail when they realize how hopeless she is. It's safer for her heart to keep everyone at arm's reach. But Alec is always stepping just a little too close.

Alec Stone should not be fantasizing about Kat. She's adorable, unbelievably witty, and completely off limits. He'd never stab his best friend in the back…

But when secrets are revealed, the lines of loyalty are blurred. To make it count, Alec must learn messy human emotions can't be solved like a trigonometry function. And Kat has to trust Alec may be the first guy to want her for who she is, and not in spite of it.
_________________________________
Make It Right

|

Goodreads

|

Amazon

|

Barnes and Noble

|

Max Payton lives by two rules:

Size and strength win any fight, and never show weakness.

When a rash of assaults sends Bowler University for a tail spin, Max volunteers to help teach a self-defense class. One of the other instructors is the beautiful pixie-faced girl he keeps butting heads with…and who challenges everything he thought he knew.

Lea Travers avoids guys like Max - cocky jocks who assume she's fragile because of a disability caused by a childhood accident. She likes to be in control, and something about being with Max makes her feel anything but. But during the moments he lets his guard down, Lea sees a soul as broken inside as she is outside. Trusting him is a whole other problem...

When the assaults ramp up and hit close to home, Lea and Max must learn, before it's too late, that true strength can come from vulnerability…and giving in to trust is sometimes the only way to make things right.
_________________________________
Anchor Me

| Goodreads | Amazon | Barnes and Noble |

Jillian Banner is adrift.

Her brother, Gabe, had been her anchor since she was thirteen. But now he's gone, leaving behind a pregnant fiancée and a business under investigation by the IRS. Jillian is alone, having left the only man she ever loved under a haze of betrayal.

Mark Chambers spent the summer trying to get over the loss of Jillian. Now that he also lost his best friend, Gabe, he's barely keeping it together. He never betrayed Jillian, but he can't tell her the truth, even if it was all for her. He made promises, and those promises go beyond the grave.

In mourning, Mark and Jillian tentatively restart a relationship, throwing their support behind the mother of Gabe's child. As the owner of an aquatic store, Jillian takes on her hardest challenge yet, helping a business partner sell captive-bred seahorses.

But just when Jillian begins to trust Mark again, she finds the men in her life built walls of lies to protect her. To stay afloat, Jillian has to learn what she wants, what she needs and how to be her own anchor.
_____________________________
As promised, each spotlight will have a giveaway attached to it!
You can win 1 of 2 bookmark swag packs from Megan Erickson!!
(One will have a button, the other one won't!)
I have included a picture down below for you to see what you can win!!