Raised on comic books and classic novels, Leigh Ann developed an early love of science fiction and literature. As an adult, she rediscovered her love for not only reading, but also writing the types of fiction that enchanted her as a teen. Her debut novel, ONE, is about a girl with only half a superpower, the boy who makes her fly, and her struggle to make herself whole.

Leigh Ann, her husband, and four children live in Columbus, Ohio. When she's not immersed in the world of fiction, you can find her obsessing over the latest superhero movie or using her kids as an excuse to go out for ice cream (again.)



____________________________________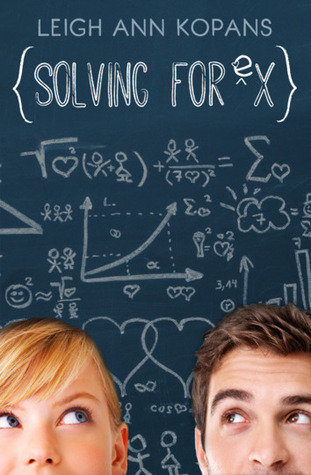 1 crush on your best friend +

1 gorgeous, scheming new girl +

1 Mathletics competition =

1 big mess

SIMPLIFY.

Ashley Price doesn't have much in life after being bullied so hard she had to leave her old school to live with her aunt and uncle in Pittsburgh. But the camera she borrowed from her best friend and secret crush Brendan, and her off the charts math abilities, make things a lot more bearable. Plus, since Brendan is the captain, making the school Mathletes team should be easy.

But when gorgeous new girl Sofia rolls in and steals Brendan, Ashley's place on the team, and her fragile foothold on the Mansfield Park Prep social totem pole, it's on. Sofia is everything Ashley left her old school to escape. The only thing Ashley didn't count on is Sofia's sexy twin brother Vincent.

Vincent is not only the hottest boy in school, he's charming, sweet, and he's got his eye on Ashley. He's also not taking no for an answer. There's no real reason Ashley shouldn't like Vincent, but with the battle lines being drawn between her and Sofia, Ashley's not sure which side he's on. Or which side she wants him to be on.

She does know Sofia is trouble with a capital T, and she's determined to make Brendan see it.
_________________________________
|

Goodreads

|

Amazon

|

Barnes and Noble

|

Sofia's had a really rough year - busted for cheating at prep school, dumped - dumped! - for the first time ever, and her new non-profit working stepmother is turning out to be an uppity bitch.

She deserves to treat herself. But when she throws herself a birthday party with 20 of her closest friends in Paris and (accidentally!) maxes out her dad's credit card in the process, he's had enough of her attitude. As punishment, he switches her planned gap year touring Europe to one doing community service work with the evil stepmother's relief organization in Guyana.

The rural village of Dabu needs help in every area from education to getting safe drinking water. But Sofia's more concerned about her roommate Callum, the gardening expert, who calls Sofia "Princess" and scoffs at her distaste for sweaty, muddy, iguana-eating, outhouse-using life in Guyana.

Eventually, life on the equator, her work in the village, and especially Callum - with his brooding eyes and bewitching New Zealand accent - start to grow on Sofia. Life is rough in Guyana, but it's roughest on the girls, whose families are too poor to send only the most promising boys in school. They're trapped in a cycle that will keep them from ever making a better life for themselves, or for the village. Worse, Callum doesn't seem to think any of the changes Sofia envisions are actually necessary.

Determined to change the girls' futures, she comes up with a strategy to help them and, ultimately, the village. But what starts out as a plan to convince Callum and her father that she's fallen in love with Guyana, turns into the realization that maybe she's falling for Callum, too. And that by changing these girls' lives, she might also be changing her own.
________________________________
|

Goodreads

|

Amazon

|

Barnes and Noble

|

When having two powers makes you a Super and having none makes you a Normal, having only one makes you a sad half-superpowered freak.

It makes you a One.

Sixteen-year-old Merrin Grey would love to be able to fly – too bad all she can do is hover.

If she could just land an internship at the Biotech Hub, she might finally figure out how to fix herself. She busts her butt in AP Chem and salivates over the Hub's research on the manifestation of superpowers, all in hopes of boosting her chances.

Then she meets Elias VanDyne, another One, and all her carefully crafted plans fly out the window. Literally. When the two of them touch, their Ones combine to make them fly, and when they're not soaring over the Nebraska cornfields, they're busy falling for each other.

Merrin's mad chemistry skills land her a spot on the Hub's internship short list, but as she gets closer to the life she always wanted, she discovers that the Hub's purpose is more sinister than it has always seemed. Now it's up to her to decide if it's more important to fly solo, or to save everything - and everyone - she loves.
_________________________________
Two

(One Universe #2)

| Goodreads | Amazon | Barnes and Noble |

Elias and Merrin are on the run.

After escaping the Biotech Hub, they thought they could breathe easy, or at least a little easier. But when bombs slam into the Social Welfare Hub only hours after their arrival, it becomes clear there's nowhere to hide - and no end to what Biotech will do to get them back.

Their last chance for safety and answers is the Clandestine Service Hub. CS has intel on the real, broader purpose behind Fisk's experiments , and the newfound knowledge of the horrors hidden deep within Biotech's walls sends Merrin back to recover a secret formula that could ruin the Supers' world forever—and might just save the lives of the Biotech victims spiraling out of control.

Elias' sisters are counted among the victims of Fisk's experiments, and if Elias can't find and help them, their powers will destroy them--sooner rather than later. Returning to the place it all began terrifies him, but with Fisk ready to make an example out of Merrin, and his sisters' lives --and the lives of all Supers--hanging in the balance, he might not have a choice. If he can't find the courage to face his worst fears, Elias might lose more than his newfound powers.

He might lose everyone he loves.
_____________________________
As promised, each spotlight will have a giveaway attached to it!
You can win a SIGNED paperback set of the books Solving for Ex and First World Problems by Leigh Ann Kopans!!
I have included a picture down below for you to see what you can win!!