Spotlight -- Anna Banks



New York Times Bestselling author of The Syrena Legacy series.

Grew up in a town called Niceville. No, seriously. I graduated from Niceville High School. So did J Lo's second husband. And the guy that plays Aqua Man on Smallville dated my best friend.

Now I indulge my tendency to lie by writing the lies down and selling them to publishers. Well actually my agent sells it, so she's an accomplice to lies. One of my lies is called OF POSEIDON. The sequel is called OF TRITON. The last and final installment is OF NEPTUNE, and it released May 13, 2014.

And um. I also write adult fiction under pen name Anna Scarlett. One of the adult lies is DEGREES OF WRONG.

That is all.



____________________________________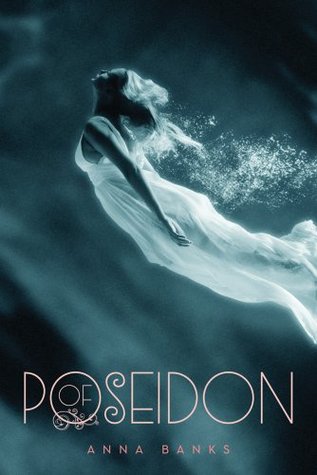 Galen is the prince of the Syrena, sent to land to find a girl he's heard can communicate with fish. Emma is on vacation at the beach. When she runs into Galen—literally, ouch!—both teens sense a connection. But it will take several encounters, including a deadly one with a shark, for Galen to be convinced of Emma's gifts. Now, if he can only convince Emma that she holds the key to his kingdom...

Told from both Emma and Galen's points of view, here is a fish-out-of-water story that sparkles with intrigue, humor, and waves of romance.
_________________________________
Of Triton

|

Goodreads

|

Amazon

|

Barnes and Noble

|

Emma has just learned that her mother is a long-lost Poseidon princess, and now struggles with an identity crisis: As a Half-Breed, she's a freak in the human world and an abomination in the Syrena realm below. Syrena law states that all Half-Breeds should be put to death.

As if that's not bad enough, her mother's reappearance among the Syrena turns the two kingdoms—Poseidon and Triton—against one another. Which leaves Emma with a decision to make: Should she comply with Galen's request to keep herself safe and just hope for the best? Or should she risk it all and reveal herself—and her Gift—to save a people she's never known?

Once again, Anna Banks infuses Emma and Galen's points of view with humor, intrigue, and waves of romance.
________________________________
Of Neptune

|

Goodreads

|

Amazon

|

Barnes and Noble

|

Emma, who is half human and half Syrena, and her Syrena love, Galen, need time together. Alone. Away from the kingdoms of Poseidon and Triton. Emma's grandfather, the Poseidon king, suggests the two visit a small town called Neptune.

Neptune is home to both Syrena and Half-Breeds alike. But Emma and Galen didn't sign up to be peacemakers between the ocean-living Syrena and the land-dwelling, freshwater counterparts. They didn't bargain for meeting a charming Half-Breed named Reed, who can barely disguise his feelings for Emma. And they especially didn't expect to find themselves in the middle of a power struggle that threatens not only their love, but their ocean kingdoms.

In this stunning conclusion to her bestselling Syrena Legacy, Anna Banks thrills fans with more action and romance than ever.
_________________________________
Degrees of Wrong

|

Goodreads

|

Amazon

|

Barnes and Noble

|

This time, the straight-and-narrow path could be the road to ruin.

Dr. Elyse Morgan's mission: find the cure to the HTN4 virus. The compensation, courtesy of the United Nations: a lab stocked with hi-tech goodies, limitless resources and enough chocolate to make her rear look like a cellulite farm. Bonus: she gets to live.

Rescued (kidnapped) and secreted (imprisoned) on an undersea warship, Elyse adjusts to her assumed identity as a cadet with the finesse of a toeless ballerina. Her sulfuric temper and blatant insubordination capture the unwanted attention of the ship's captain, the gorgeous, infuriating, engaged Nicoli Marek.

Elyse would rather perform her own autopsy than become the other woman, but Nicoli—who's as full of himself as he is of secrets—regards his impending marriage as a mere political transaction. And Elyse as fair game.

v As Elyse's suspicions about the UN's true agenda mount along with her attraction to the relentless, chronically shirtless captain, she must choose between the murky path to everything she's ever wanted, or the squeaky-clean path of self-sacrifice—which could mean taking the secrets of the virus with her to the grave.

Warning: Features a strong, chocolate-loving heroine who takes no prisoners on the way to saving the world from an epidemic and winning a captain's heart.
_________________________________
As promised, each spotlight will have a giveaway attached to it!
You can win 1 of 5 bookmark swag packs from Anna Banks!!
You Can also win a signed poster of "Of Neptune" by Anna Banks!!
I have included pictures down below for you to see what you can win!!

Since this is a big name author, I decided to leave the giveaway go a little longer. I will have this one going for a month for all of you to have plenty of time for a chance to win the awesome prizes!!