Memory Lane Monday is a weekly meme that Amber at Paradise of Pages and I, Kristalyn at The Sarcastic Palmtree, came up with. We have been wanting to re-read some of our favorites but feel overwhelmed by all the other new books coming out that our re-reads get put to the side. We have decided we don't want to put them aside anymore, so we will be taking turns putting up our reviews on our blogs throughout the month. This does not mean we won't keep up with recent releases, it just means we will make more time for those we have read before as well.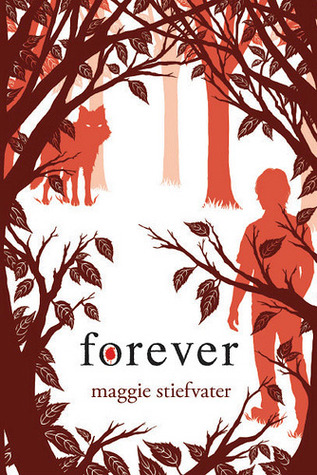 then.When Sam met Grace, he was a wolf and she was a girl. Eventually he found a way to become a boy, and their loved moved from curious distance to the intense closeness of shared lives.

now.That should have been the end of their story. But Grace was not meant to stay human. Now she is the wolf. And the wolves of Mercy Falls are about to be killed in one final, spectacular hunt.

forever.Sam would do anything for Grace. But can one boy and one love really change a hostile, predatory world? The past, the present, and the future are about to collide in one pure moment - a moment of death or life, farewell or forever.
This memory post may end up being quite short because I have very little I remember about the end to this series.
I remember anxiously waiting for this book to be released. It was one that I waited for anxiously because I was so in love with this series and I was not disappointed.
I know going into this book I had quite a lot of anticipation because there was quite a bit of the unknown hanging out there as to what would happen with Sam and Grace.
I know despite my short memory, I enjoyed Forever because I have raved about this series to friends over the years and although details tend to escape me I know this is a book I enjoyed and look forward to reading again after so long.
Here's how Memory Lane Monday works:
Each week the co-hosts will trade off with recapping when it is a re-read or what they have heard so far about the book and the other co-host will put up their review.

The participants can read anything that they remember reading in the past, or something that they have wanted to read that has been around for a while and just haven't gotten around to reading it yet for whatever reason.

Participants can decide if they want to recap the book before reading it or just put up a review of what they read.

Anyone can join in, just please link back to our blogs as well as add your name to the linky so we can hop around and see what everyone is reading.

Please put our banner on your post as well, so we all look the same!

We ask you kindly to follow BOTH of our blogs.

Most importantly remember to just have fun! :)
We will be providing each week a linky that you will be able use to link your posts for us and everyone else to see as well. All we ask is for you to put up our banner as well as a link back to both hosts on your post.