Memory Lane Monday is a weekly meme that Amber at Paradise of Pages and I, Kristalyn at The Sarcastic Palmtree, came up with. We have been wanting to re-read some of our favorites but feel overwhelmed by all the other new books coming out that our re-reads get put to the side. We have decided we don't want to put them aside anymore, so we will be taking turns putting up our reviews on our blogs throughout the month. This does not mean we won't keep up with recent releases, it just means we will make more time for those we have read before as well.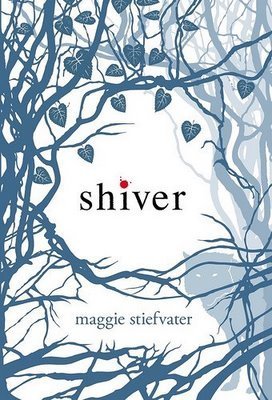 For years, Grace has watched the wolves in the woods behind her house. One yellow-eyed wolf—her wolf—is a chilling presence she can't seem to live without.

Meanwhile, Sam has lived two lives: In winter, the frozen woods, the protection of the pack, and the silent company of a fearless girl. In summer, a few precious months of being human… until the cold makes him shift back again.

Now, Grace meets a yellow-eyed boy whose familiarity takes her breath away. It's her wolf. It has to be. But as winter nears, Sam must fight to stay human—or risk losing himself, and Grace, forever.
You can read my memory post for Shiver here.
At First Sight
I love the covers of these books. They fit really well with the series and I know they have been redone recently, but I love the old covers. I also want to give a shout out to my friend Celestia who introduced me to this series. It has been many years, but I believe when she introduced me to Shiver, Linger hadn't even come out yet and I know I had to wait for Forever. This has been a favorite series of mine from the beginning and I still love it. Also, I think fall is the perfect time of year to read these books as the weather is just getting a chill in the air and things are changing.
Characters and Relationships
I love watching the relationships in this book unfold. Sam and Grace are so well suited for each other, both of them have a lot they have had to deal with as far as family life is concerned and the way they end up coming together is as unique as Maggie's writing. I think I particularly like the character of Sam because of how he treats Grace. He cares for her so much and the nature of his character reminds me a lot of how I am treated by my husband. One of the quotes below is similar to something he says to me often. That is something I can truly relate to and it makes me just love reading these books even more.
I also enjoy the other characters in this book that end up elaborated on as the series progresses, particularly Isabelle. Beck is someone that I wish there was a prequel book for because I would love to hear his whole story.
Is This A Kissing Book?
There is kissing in this book, but it isn't by any means a huge part of the book or story. I find this book appropriate for ages 12 and up.
Don't Leave Me Hanging
Shiver is book one in the series of books "The Wolves of Mercy Falls" followed by Linger, Forever and most recently, Sinner. You can watch for Linger and Forever in up coming Memory Lane Monday reviews in October.
The Best Gems
The Boy
The Crooked Shelf
Loft
Rilke
Candy Shop
My Lovely Summer Girl
"You're the best of them"
The Sum Up
I love Maggie Stiefvater's writing style. She truly knows how to weave a story that will keep you reading. I have read this series a couple times before but it has been a few years and I it was a pleasure to return to Mercy Falls once again. There are a couple of favorite quotes I would like to share from the book.
"You're like a song that I heard when I was a little kid but forgot I knew until I heard it again"
He looked over at me and grinned. It was a funny, lopsided grin. I think maybe he was feeling as giddy as I was. "Yes, anything, as long as you're there."
"I thought to myself, A life is measured by moments like these."
I am looking forward to continuing my reread of this series as there is so much I love about it. The best part of this feature is I am able to review books I read and never reviewed because I didn't have a blog before and I can give them some love and attention now.
Here's how Memory Lane Monday works:
Each week the co-hosts will trade off with recapping when it is a re-read or what they have heard so far about the book and the other co-host will put up their review.

The participants can read anything that they remember reading in the past, or something that they have wanted to read that has been around for a while and just haven't gotten around to reading it yet for whatever reason.

Participants can decide if they want to recap the book before reading it or just put up a review of what they read.

Anyone can join in, just please link back to our blogs as well as add your name to the linky so we can hop around and see what everyone is reading.

Please put our banner on your post as well, so we all look the same!

We ask you kindly to follow BOTH of our blogs.

Most importantly remember to just have fun! :)
We will be providing each week a linky that you will be able use to link your posts for us and everyone else to see as well. All we ask is for you to put up our banner as well as a link back to both hosts on your post.