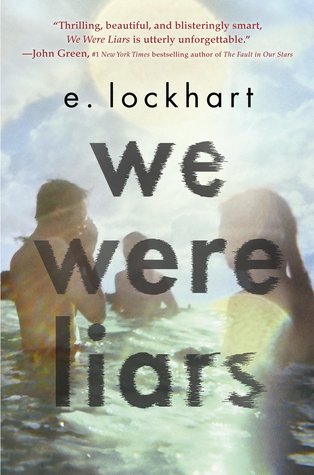 A beautiful and distinguished family.




A private island.




A brilliant, damaged girl; a passionate, political boy.




A group of four friends—the Liars—whose friendship turns destructive.




A revolution. An accident. A secret.




Lies upon lies.




True love.




The truth.




We Were Liars is a modern, sophisticated suspense novel from National Book Award finalist and Printz Award honoree E. Lockhart.





Read it.




And if anyone asks you how it ends, just LIE.
I was planning to do this review in my normal fashion, but after starting I decided, since the book was hardly worth my time to read, it is hardly worth my time to do a lengthy review. While reading We Were Liars, I kept waiting for something substantial to happen the entire time. There was some mysterious thing that happened that was eluded to the entire time and I kept waiting for something to happen to at least give us clues as to what had happened but they never came.
I kept complaining the entire time I read that this book wasn't good and my family kept asking "Why are you still reading it then?" to which I would reply, "I am waiting for it to redeem itself. I have heard it's so good!" I had heard so many great things about it from people that I generally like similar books with so I was SURE there was going to be something to make it all click together coming up...never happened. The ending, where you finally do find out what the whole mystery was, I said to myself "Really? Are these characters, even as teenagers, that stupid?" Needless to say, I was very disappointed.
This was one of the worst books I have read in the last year. I know it worked for other people, and I am happy for them, but the only reason this book is getting a 2 from me is because I actually finished it. I almost gave up on it several times but I guess I just needed to know what actually did happen and was waiting for that ultimate book redemption to show up even though it never did. Thank heavens I checked this one out from the library and didn't buy it!