Memory Lane Monday is a weekly meme that Amber at Paradise of Pages and Kristalyn (and Beighley) at The Sarcastic Palmtree, came up with. We have been wanting to re-read some of our favorites but feel overwhelmed by all the other new books coming out that our re-reads get put to the side. We have decided we don't want to put them aside anymore, so we will be taking turns putting up our reviews on our blogs throughout the month. This does not mean we won't keep up with recent releases, it just means we will make more time for those we have read before as well.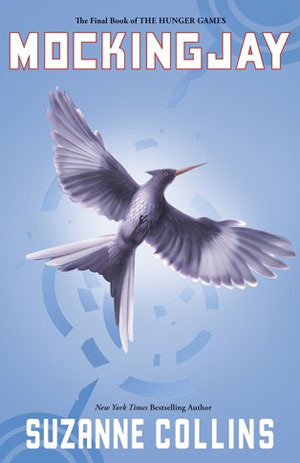 My name is Katniss Everdeen.

Why am I not dead?

I should be dead.

Katniss Everdeen, girl on fire, has survived, even though her home has been destroyed. Gale has escaped. Katniss's family is safe. Peeta has been captured by the Capitol. District 13 really does exist. There are rebels. There are new leaders. A revolution is unfolding.

It is by design that Katniss was rescued from the arena in the cruel and haunting Quarter Quell, and it is by design that she has long been part of the revolution without knowing it. District 13 has come out of the shadows and is plotting to overthrow the Capitol. Everyone, it seems, has had a hand in the carefully laid plans--except Katniss.

The success of the rebellion hinges on Katniss's willingness to be a pawn, to accept responsibility for countless lives, and to change the course of the future of Panem. To do this, she must put aside her feelings of anger and distrust. She must become the rebels' Mockingjay--no matter what the personal cost.
Hey everyone! I'm back! It's been awhile, but I thought it would be fun to do this around a month from when the movie comes out to try and get everyone pumped for it!
There isn't much I can remember without giving away major plot points so this memory post, and probably the review, will have spoilers in them...
There ya go! Now you can't say I never warned you! ;)
I don't remember much, but I do have a lot to say...

First off... I remember that Katniss is in a very depressing state in this book... and I don't think it's something that lots of people tend to like. For me... I always liked it because Katniss has been through a whole lot of horrible, traumatizing events, even as a kid; and realistically speaking, there's no way she wouldn't be all mental and depressed after all she's been through.

I remember that I don't like President Coin at all! I do remember I wanted to high five Katniss when she killed her instead of President Snow, though, and THAT made me happy.

Next... I remember what the Capitol does to Peeta... and I remember it made me mad, yet amazed that Suzanne Collins would come up with such a twisted way of torture, and really, destruction. As a side note: I think that when the rebellion gets him back is when Mockingjay: Part I is gonna end. In spite of that, I do like the game that Katniss and Peeta play to try and get him to love her again. I'm not one for the whole romantic part of this book, even though there's practically nothing anyway. I still love being able to watch them fall in love all over again.

I remember that Finnick dies... and THAT WAS SAD! The same thing happens to Prim... and it's not like I didn't care about it... but I was still trying to get over Finnick's death, which happened a couple chapters before that. Prim wasn't important enough of a character to get all worked up over, even though that if I were to put myself in Katniss's shoes, I'd be devastated to lose either of my younger sisters. I do remember that it was practically Gale's fault in her death... which kinda made me not like him. At the same time, I would eventually forgive him because it's not like he actually KILLED her, and that time is today.

Lastly, I remember that I liked the ending, I was proud of Katniss, and it was realistic. Even though Katniss got her happy ending, it came with a price, she was still really damaged at the end, as was Peeta, and they were able to survive everything that happened to them throughout the trilogy.



I am so excited to finally be able to read this book again... It's one of the best finales to a series ever! Come back next week to see my review of the epic conclusion to The Hunger Games Trilogy!
Here's how Memory Lane Monday works:
Each week the co-hosts will trade off with recapping when it is a re-read or what they have heard so far about the book and the other co-host will put up their review.

The participants can read anything that they remember reading in the past, or something that they have wanted to read that has been around for a while and just haven't gotten around to reading it yet for whatever reason.

Participants can decide if they want to recap the book before reading it or just put up a review of what they read.

Anyone can join in, just please link back to our blogs as well as add your name to the linky so we can hop around and see what everyone is reading.

Please put our banner on your post as well, so we all look the same!

We ask you kindly to follow BOTH of our blogs.

Most importantly remember to just have fun! :)
We will be providing each week a linky that you will be able use to link your posts for us and everyone else to see as well. All we ask is for you to put up our banner as well as a link back to both hosts on your post.