Memory Lane Monday is a weekly meme that Amber at Paradise of Pages and Kristalyn (and Beighley) at The Sarcastic Palmtree, came up with. We have been wanting to re-read some of our favorites but feel overwhelmed by all the other new books coming out that our re-reads get put to the side. We have decided we don't want to put them aside anymore, so we will be taking turns putting up our reviews on our blogs throughout the month. This does not mean we won't keep up with recent releases, it just means we will make more time for those we have read before as well.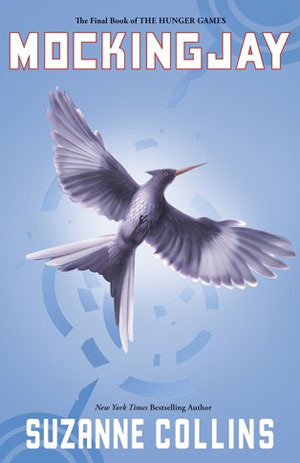 My name is Katniss Everdeen.

Why am I not dead?

I should be dead.

Katniss Everdeen, girl on fire, has survived, even though her home has been destroyed. Gale has escaped. Katniss's family is safe. Peeta has been captured by the Capitol. District 13 really does exist. There are rebels. There are new leaders. A revolution is unfolding.

It is by design that Katniss was rescued from the arena in the cruel and haunting Quarter Quell, and it is by design that she has long been part of the revolution without knowing it. District 13 has come out of the shadows and is plotting to overthrow the Capitol. Everyone, it seems, has had a hand in the carefully laid plans--except Katniss.

The success of the rebellion hinges on Katniss's willingness to be a pawn, to accept responsibility for countless lives, and to change the course of the future of Panem. To do this, she must put aside her feelings of anger and distrust. She must become the rebels' Mockingjay--no matter what the personal cost.
To see what I remembered from this book, go see my memory post here. I'd definitely recommend you read it because there will be things which are covered that are not in this review.
Okay... since this is the final book in a series and the movie will be coming out soon... I'm gonna give everyone a fair warning!
WARNING: This review has spoilers!
At First Sight
I love this cover because it's a symbol of Katniss (The Mockingjay) breaking free of the Capitol's grip. This is also the first time we really got to see what a Mockingjay looks like and
I
thought it was cool!
Characters and Relationships
Katniss is destroyed at the beginning of this book, mentally and physically. In addition to this, the rebellion wants her to be the one people look up to, The Mockingjay. The only real reason she agrees is to get Peeta back and take revenge on the Capitol.
Once they finally get Peeta back... the first time Katniss goes to see him, he tries to kill her. Plutarch and Haymitch deduce he has been "hijacked". "Hijacking" is a sick form of torture the Capitol uses to twist a person's memories around using a dose of tracker jacker venom that is "just enough to infuse the memory with fear and doubt". In Peeta's case, they made him think Katniss was a "muttation" The cure that is discovered is a game that Jackson, Bogg's second in command suggests called "Real or Not Real?". The rules are very basic: Peeta asks if something he remembers happened or not, then someone, usually Katniss, tells him the answer.
I liked being able to see Finnick grow as a character. To see he really isn't the fake Capitol brat was great! His love for Annie Cresta cannot be matched. Annie was driven insane after winning her Hunger Games so it was always cool to see he was there to bring her back. It was so sad to see him die, leaving not only her, but their son behind.
Is This A Kissing Book?
There is a maximum of like 10 kissing scenes in this book... There is little to no focus on which guy Katniss is gonna choose. I think that all the people who think that's what it's about need to reread it and think again. This book is deeper than that.
Don't Leave Me Hanging
Since this book is the FINAL book... there is really no cliffhanger. The epilogue was the crack that broke the dam holding my tears it's happy, yet sad. Katniss and Peeta end up having what some people would call a "happy ending" with kids and peace and all that stuff. What those people don't realize is that they really
don't
have a happy ending, and
that
is the sad part. They have been through the equivalent of three Hunger Games. That is a traumatizing, life-altering event! I think this is best summed up in some of the last words of the book...
"How can I tell them about that world without frightening them to death?... My children, who don't know they polay on a graveyard... We can make them understand in a way that will make them braver. But one day I'll have to explain about my nightmares. Why they came. Why they won't ever really go away. I'll tell them how I survive it. I'll tell them that on bad mornings, it feels impossible to take pleasure in anything because I'm afraid it could be taken away".
The Best Gems
Mockingjay Perks (Demands)
Crazy Cat
Finnick Reveals Secrets
Real or Not Real?
"...Effie Trinket, rebel."
A Presidential Execution
The Sum Up
To sum it up... this book is amazing! I know it's probably the one billionth time I've said it, but it's true! Katniss goes through not only this book, but the entire trilogy, enduring all the crap that's thrown at her. She does end up with a happy ending, but at a huge cost. She will always live her life in fear that the happiness she rightfully earned will be taken away. I think that this is why this book is so good. This isn't some fairy tale with sunshine and rainbows! Katniss experiences reality. Suzanne Collins does a good job with showing this world through the eyes of a 17 year old that has had to mature at the rapid rate Katniss had to. I can't wait to see how well the movie adaptation will be this time around since they've done such a great job with the first two.
I LOVED being able to read this book again! It's one of the best finales in book history EVER! Go see the movie on November 21st after you read it! Thanks for stopping by!
Here's how Memory Lane Monday works:
Each week the co-hosts will trade off with recapping when it is a re-read or what they have heard so far about the book and the other co-host will put up their review.

The participants can read anything that they remember reading in the past, or something that they have wanted to read that has been around for a while and just haven't gotten around to reading it yet for whatever reason.

Participants can decide if they want to recap the book before reading it or just put up a review of what they read.

Anyone can join in, just please link back to our blogs as well as add your name to the linky so we can hop around and see what everyone is reading.

Please put our banner on your post as well, so we all look the same!

We ask you kindly to follow BOTH of our blogs.

Most importantly remember to just have fun! :)
We will be providing each week a linky that you will be able use to link your posts for us and everyone else to see as well. All we ask is for you to put up our banner as well as a link back to both hosts on your post.