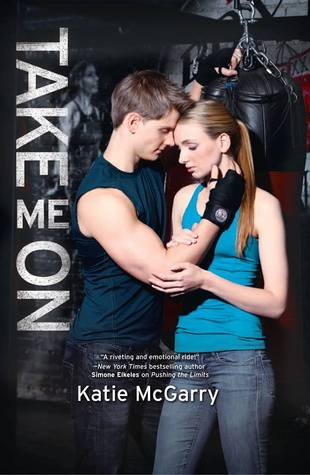 Champion kickboxer Haley swore she'd never set foot in the ring again after one tragic night. But then the guy she can't stop thinking about accepts a mixed martial arts fight in her honor. Suddenly, Haley has to train West Young. All attitude, West is everything Haley promised herself she'd stay away from. Yet he won't last five seconds in the ring without her help.
West is keeping a big secret from Haley. About who he really is. But helping her-fighting for her-is a shot at redemption. Especially since it's his fault his family is falling apart. He can't change the past, but maybe he can change Haley's future.
Hayley and West have agreed to keep their relationship strictly in the ring. But as an unexpected bond forms between them and attraction mocks their best intentions, they'll face their darkest fears and discover love is worth fighting for.
At First Sight
I absolutely love all of the covers in this series and Take Me On is no exception. It fits the book so well and made me even more excited to read it than I already was.
Characters and Relationships
West and Haley are both excellent characters. I loved how their lives were unknowingly woven together without their doing. They are both strong and independent but at the same time they need each other. As always, I loved the other characters in this book. It is always nice to see familiar faces that we love from other books, but also it is great to get to know new characters as well. I loved Jax most of all and I hope he has a story of his own to share in the future as well.
Is This A Kissing Book?
Katie is the master at bringing hot and steamy into her books without going overboard. I love the tension and build up between her characters and this is most definitely a kissing book, although it doesn't define it in any way. There is romance but also so much more!
Don't Leave Me Hanging
All of the books in this series can be read as stand alone novels, but at the same time, it is nice how interwoven the characters are with each other's lives and it is always nice, as I said before, to see characters that we have loved from before. No cliffhanger here, but if you are like me, I could read a book about each of the characters in Katie's books without a problem.
The Best Gems
Training
Fighting
Girls in the ring
Romantic Tension
Family that has your back
Learning from your mistakes
Doing what's best for you
Doing the right thing
The Sum Up
I think the reason I love Katie McGarry's books so much is the fact that they are so authentic. She is so detail oriented that you feel like you are right there with the characters, doing what they are doing and feeling what they are. As detail oriented as she is, I never feel like the details are overwhelming, more that they are so well woven into what is happening you can't help but feel and experience it.
I ended up liking West a lot more than I thought I would. He is a very relate-able character and one that reminds us that you never know what's going on behind closed doors or inside a person until you have walked in their shoes. Haley was very similar in this aspect. There were a lot of difficult things going on in her life, but she worked hard to try and make things better the best she could.
I can't say enough good about this book or any of Katie McGarry's books. She has become a must read author for me, and I know her books are some that I will be reading over again throughout the years.