Memory Lane Monday is a weekly meme that Amber at Paradise of Pages and I, Kristalyn at The Sarcastic Palmtree, came up with. We have been wanting to re-read some of our favorites but feel overwhelmed by all the other new books coming out that our re-reads get put to the side. We have decided we don't want to put them aside anymore, so we will be taking turns putting up our reviews on our blogs throughout the month. This does not mean we won't keep up with recent releases as well, it just means we will make more time for those we have read before as well.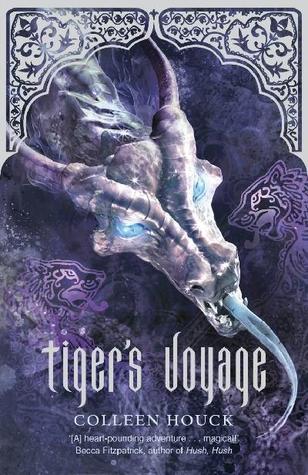 With the head-to-head battle against the villainous Lokesh behind her, Kelsey confronts a new heartbreak: in the wake of his traumatic experience, her beloved Ren no longer remembers who she is. As the trio continues their quest by challenging five cunning and duplicitous dragons, Ren and Kishan once more vie for her affections--leaving Kelsey more confused than ever.
If you you would like to read my Tiger's Voyage Memory post you can find it here.
I love the cover of this book! It is amazing and so fitting to the story as they are about to face different dragons in this installment of the series.
Characters and Relationships
In addition to the usual characters from the series, Tiger's Voyage has a host of new characters that include 5 different dragons with unique personalities. Some of the dragons are easier to like than others, but all of them enhance the quest in this story. The Gold Dragon was my favorite but I won't elaborate since I'm trying to keep my review without spoilers.
The usual ongoing relationship between Kelsey, Kishan and Ren is present, and by the end of the book extremely frustrating in several respects. I think this is the only book where I really don't like Ren much (although Kishan is a continual favorite of mine throughout the series.)
Is This A Kissing Book?
Kissing? Yes! Lots of it! I never get tired of kissing handsome princes... I mean reading about Kelsey kissing them....what did I just say there?
Don't Leave Me Hanging
This one will leave you hanging one last time! The 4th installment will wrap things up pretty well but this one is still left wide open.
The Best Gems
New nicknames
The Star Festival
Ducati motocycles
Delightful weeds
Notable and notorious dragons
Lady Silkworm
Luxury yachts
Returning Memories
The Sum Up
I had forgotten what an adventure Tiger's Voyage held! I love this book and this series so much. I love the path this book takes between the different realms of each dragon and the challenge Kelsey, Ren and Kishan have to face with each dragon. There are also additional characters and situations that arise to keep the story moving but I never feel like there is too much going on in each book to keep up with everyone and everything. I am really looking forward to reading Tiger's Destiny and wrapping up the bulk of this story once again!
Here's how Memory Lane Monday works:
Each week the co-hosts will trade off with recapping when it is a re-read or what they have heard so far about the book and the other co-host will put up their review.

The participants can read anything that they remember reading in the past, or something that they have wanted to read that has been around for a while and just haven't gotten around to reading it yet for whatever reason.

Participants can decide if they want to recap the book before reading it or just put up a review of what they read.

Anyone can join in, just please link back to our blogs as well as add your name to the linky so we can hop around and see what everyone is reading.

Please put our banner on your post as well, so we all look the same!

We ask you kindly to follow BOTH of our blogs.

Most importantly remember to just have fun! :)
We will be providing each week a linky that you will be able use to link your posts for us and everyone else to see as well. All we ask is for you to put up our banner as well as a link back to both hosts on your post.