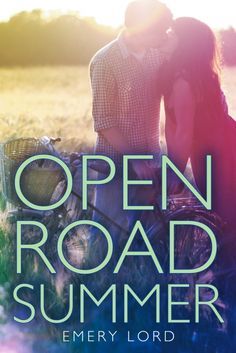 Open Road Summer
by Emery Lord
After breaking up with her bad-news boyfriend, Reagan O'Neill is ready to leave her rebellious ways behind. . . and her best friend, country superstar Lilah Montgomery, is nursing a broken heart of her own. Fortunately, Lilah's 24-city tour is about to kick off, offering a perfect opportunity for a girls-only summer of break-up ballads and healing hearts. But when Matt Finch joins the tour as its opening act, his boy-next-door charm proves difficult for Reagan to resist, despite her vow to live a drama-free existence. This summer, Reagan and Lilah will navigate the ups and downs of fame and friendship as they come to see that giving your heart to the right person is always a risk worth taking. A fresh new voice in contemporary romance, Emery Lord's gorgeous writing hits all the right notes.
From the minute I saw this book and read the synopsis I knew it was for me. The cover is gorgeous and fits the book extremely well. I love books with musical elements so this one definitely fit right in.
Characters & Relationships
I love the life long friendship between Reagan and Lilah. This kind of relationship is something I think is hard to find in almost anyone's life. I know very few people that still have the same friends they had as a child into even their early adulthood. You could tell that they had been through a lot together which helped them deal with the different situations, whether easy or difficult that arose while they were on tour.
Matt Finch was an awesome character. I absolutely LOVED his snark and sarcasm and how he was able to give Reagan a hard time without pushing too far. He was an absolutely fabulous, well rounded character that any girl could swoon over.
This is a kissing book. I enjoyed watching the relationship between Reagan and Matt develop and their kissing scenes were just hot enough for YA to keep it for what I feel is appropriate for the genre. I love finding romance books that work for teens and adults alike and I would be happy to recommend this to pretty much any age group.
No cliffhangers to this one. I love stand alone novels. For some reason they seem to be few and far between for me lately.
On tour with your best friend for the summer

Snack stops for strawberry milk and twizzlers

Picnics

Music elements of all kinds

Hanging out with young fans of your BFF

Sunsets
I loved Open Road Summer. This is 100% my kind of read. I love it when I am reading a book with musical characters and I wish I could turn on a CD and listen to an actual soundtrack of the songs they are performing. It makes you feel like you are right there in the book with the characters which is something not every author has the ability to do. This book is about so many different things and has such a positive message I would recommend it to anyone.