It's that time of year again: the crisp air and changing leaves on the trees, oh and it's also time for all of our favorite TV shows to start back up in the next month or two! Since we have been slacking ever so slightly thanks to Netflix and Wild Hockey (Flamingo won't miss a game) we are dividing our annual preview into four sections: shows we are caught up on, shows we aren't caught up on (but are still excited about), new shows we are looking forward to and, as always, the honorable mentions. Grab your favorite drink and one of Toucan's no bake cookies and get ready for
The Sarcastic Palmtree's Fall TV Preview 2015
Part I: Shows we are caught up on
Survivor
Wednesday, September 23rd @ 8/7c
We are always looking forward to Survivor. This season is no different as we get to see the second chance characters that we all love (or hate) from previous seasons compete again for the million dollar prize and title of Sole Survivor!
Thursday, September 24th @ 8/7c
We know what you're probably wondering since you see the TGIT poster instead of the separate shows. WELL... We have some fantastic news for you! Our #TGIT Recaps are coming back starting next week so check them out because this year will be even better than last!
Sunday, September 27th @ 8/7c
We are super excited for this season! Last season ended on such a huge cliffhanger with Emma becoming the Dark One and we can't wait to see how things change because of it! Plus there's the whole Regina-Robin-Zelena thing, that's pretty big too.
iZombie
Tuesday, October 6th @ 9/8c
Ok, so we absolutely hate zombie anything, but we gave this one a chance because Aly Michalka was in it and we absolutely love it! It's different from the rest in a way that we just can't put into words. We are very excited to see where this show takes us for this season!
The Vampire Diaries
Thursday, October 8th, @ 8/7c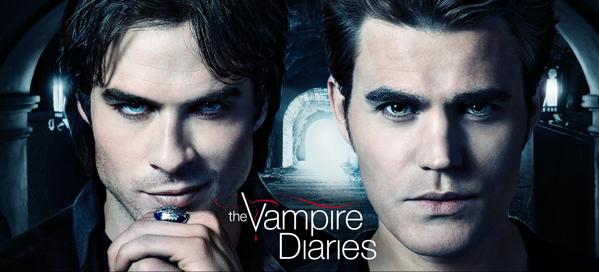 Well, Elana's gone (no tears here) so it will be interesting to see how each story line will evolve without her being the center of the universe. As always, we are looking forward to this season and hope for another year of Vampire Diaries greatness. Although we all know that this show will have Flamingo's devotion as long as Ian Smolderhaulder Damon is around.
Part II: Shows that we are not caught up on (but still excited about)
Castle
Monday, September 21st @ 10/9c
This is a sad state of affairs. We all love Castle but just haven't gotten to it over the summer.
Tuesday, October 6th @ 8/7c
We watched the first few episodes of this show and then were trying to decide if it would stay in our line-up. Because it has crossover with Arrow and we have heard that it improved as the season progressed we are going to finish out the season and hope for the best.
Tuesday, October 7th @ 8/7c
This show isn't going ANYWHERE even though we are behind on it. The action and adventure (and hopefully some Olicity by the end of this season we haven't finished) will keep us watching.
Thursday, October 8th @ 9/8c
We are about a season behind on this one too. We are excited to see Kol come back because he's one of our favorites and we can't wait to catch up on it!
Part III: The New Shows
Scream Queens
Tuesday, September 22nd @ 8/7c
After Glee ended, we were sad, yet relived. BUT once we found out that this show was going to be on we HAD to check it out! Once we saw the trailer (posted below) we quickly discovered they had an AMAZING line up of actors (including Ariana Grande as Chanel #2) and it sealed the deal, we were going to watch it!
Heroes Reborn
Thursday, September 24th @ 8/7c
So Banana decided to watch this on Netflix over the summer and absolutely loved it! It was such a disappointment to find out it was canceled but the timing couldn't have been more perfect because now they're bringing it back! And it. Looks. AWESOME! From what it sounds like, you don't really have to have watched the other seasons to understand what's happening, but it would obviously be a smart thing to do because it's freaking amazing!
We are also extremely excited for the new Shondaland Show The Catch, but it is currently going to be released during the midseason. Here is the trailer below...
Part IV: The Honorable Mentions
Dancing With the Stars
Monday, September 14th @ 8/7c
Our guilty pleasure just came back this week and we are absolutely pumped for this season to say the least! We can't wait to see who ends up the next winner!
Minnesota Wild Hockey
Thursday, October 8th @ 9/8c
We signed Devan Dubnyk in the off season which should be a major boost to our sour goal tending problems from last season. I'm looking forward to watching all of my favorite players once again (Zucker and Parise I'm looking at you) and hoping for an even better Minnesota Wild team than last year!
Young and Hungry
Wednesdays at 8/7c on ABC Family
This was also another show that was found through Netflix and we now watch it religiously. It's the perfect amount of funny and interesting drama. (Food is always a great factor to everything too!) As long as we keep saying "Oh my Damn!" and "Oh
Hell
no!" like Yolanda, then we will be watching it!
Gilmore Girls
Currently on Netflix
Even though we didn't watch a lot of our shows, this was definitely one we did watch. We got through about two or three seasons over the summer and still absolutely love it!
Okay TV watchers...now it's your turn! Tell us all the fantastic shows you are looking forward to or that you have been watching this summer and can't wait to continue in the coming months! We want to hear from YOU!