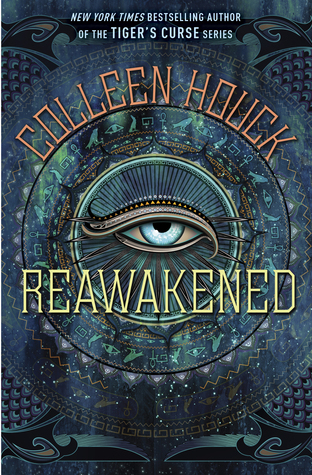 Reawakened (Reawakened #1)
by Colleen Houck
Publish Date: August 11, 2015

When seventeen-year-old Lilliana Young enters the Metropolitan Museum of Art one morning during spring break, the last thing she expects to find is a live Egyptian prince with godlike powers, who has been reawakened after a thousand years of mummification.

And she really can't imagine being chosen to aid him in an epic quest that will lead them across the globe to find his brothers and complete a grand ceremony that will save mankind.

But fate has taken hold of Lily, and she, along with her sun prince, Amon, must travel to the Valley of the Kings, raise his brothers, and stop an evil, shape-shifting god named Seth from taking over the world.

From New York Times bestselling author Colleen Houck comes an epic adventure about two star-crossed teens who must battle mythical forces and ancient curses on a journey with more twists and turns than the Nile itself.
At First Sight
I absolutely love this cover. I think it is beautiful and intriguing. I am a huge fan of all things Egyptian so I was in love with it the moment I saw it.
Characters and Relationships
Lilliana (Lily) and Amon were the main characters of the book and I enjoyed them both for different reasons. It is always interesting to see people come together from different cultures and backgrounds, let alone different time periods in history. Colleen Houck does a brilliant job at bringing out the differences in their lives while bringing them together as friends (and perhaps a bit more) at the same time. Amon was confused yet fascinated with the technology of the current day as he questioned simple phrases, trying to understand life as it is in this time period. On the flip side, Lily was interested in the history of Amon's day which was brilliantly and beautifully written. I loved watching the relationship between Lily and Amon develop through the story as they try and fulfill the ceremony that needed to be performed to save the world from evil. Amon's brothers were a fantastic addition to the book as they entered, their distinct personalities adding another level of charming and sometimes amusing aspects to the story.
Is This A Kissing Book?
Yes...a very little bit of kissing but satisfying all the same.
Don't Leave Me Hanging
This is book one in a series and I have to say I will be very excited for the next installment! That being said, I felt very satisfied with the ending as it didn't leave me wanting to throw the book across the room, just wanting more.
The Best Gems
Feasting
Valley of the Kings
Worms
Waking the Brothers
Heart of a Sphinx
Travel by Sandstorm
Scarab
Nehabet
The Sum Up
This book was everything that I hoped it would be and more. I love Colleen Houck's beautiful, in-depth writing style. She knows how to weave an exquisite story around detailed characters that you feel connected to. Once I really started into the meat of the story, I couldn't stop reading. I loved every minute of the book and would recommend it to anyone of any age that enjoys a good fantasy read. I am very eager to see where the next book in the series will take us.