This week on Miscellaneous Monday,

Banana

and Toucan are talking about their latest find on Netflix...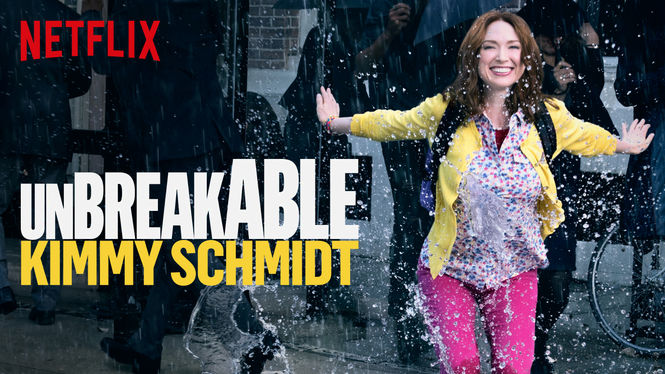 What got you to watch this show?
Ellie Kemper. I loved seeing her on Ellen and I don't think anyone could've been a better replacement for Ellen when she was sick that one day! I've really wanted to see something that's she was in and thus showed up so I HAD to watch it!
Walter Bankston, the guy from the news report at the beginning.
Who would you recommend it to?
Anyone who is in desperate need for a laugh.
Who was your favorite character(s) and why?
Jacqueline (Mrs. Voorhees) was probably my favorite character from the start. I love how her character is all rich and high maintenance, but she ends up becoming much more by the end.
Titus Andromedon was someone I didn't originally like, mainly because I could stand the way he talks, but I quickly got over that because he definitely is the comic relief of the show. I also felt the same with Lillian--she kind of grows on you.
Titus Andromedon- he is hilarious.
Who was your least favorite character and why?
My least favorite character by far was Randy. I don't think we were supposed to really like his character though. As a human, I feel sorry for him because he's such an oblivious loser. I think they probably needed him more for the characterization of Kimmy's mom more than anything. There is something he does that makes him useful, but then he kind of screws that up too, so take that as you will.
Randy, Kimmy's stepfather, because he's an idiot. 'Nough said!
Did you have a favorite episode or moment from the show? (No spoilers!)
I loved finding out about the mysterious crank! I was definitely very mad about it, but I couldn't stop laughing for some reason.
When Titus and Lillian shot his music video, and the actual video itself.
I also liked seeing his Lion King audition.
What would you rate this on Netflix?
4 stars for now, I take my Netflix ratings pretty seriously so it's really hard to get 5. I will say that it's got the potential to become 5 star show.
4 stars because I don't think it's 5 star worthy (yet).
What are some of your favorite lines from the show?
"It's a miracle!" -Walter Bankston
"I wish that I was YOUR yellow hat!" -Kimmy Schmidt
"What's your plan? You have maybe four years of that youthful glow left. After that you'll be stuck marrying a primary care physicians or one of those off-brand Kennedys" -Jacqueline Voorhees
(There's much more than this, these are just the ones I can quickly remember.)
"FEmales are STRONG as HELL!" -Walter Bankston
"Penoooooooooo Noooir" - Titus Andromedon
Are you ready for season two?
I seriously CANNOT wait for the next season of this show! I'm excited to see where the story goes after everything that's happened in the last few episodes.
What were your overall thoughts and feels about this show?
This show is definitely one of the best comedies I've seen in awhile. Although it is a comedy, it's got this serious undertone to it that really makes the show what it is. The story always seemed to be moving along, so there's definitely not many boring parts to the show. If I didn't have Netflix, I would get a Netflix to watch this show!
I really liked this show, depending on which half of the season you're talking about. I wasn't that big of a fan of the first half because it was mainly set up for the next half. Overall, it was good and I can't wait for more!
Are you interested yet? Watch the trailer!

Also check out the full, famous Walter Bankston interview!

That's our Miscellaneous Monday for this week! Unbreakable Kimmy Schmidt is streaming now on Netflix!
What are you sharing today? Link in to the linky below so I can check out your Miscellaneous Monday posts and see what you are up to this week!