Memory Lane Monday is a weekly meme that Amber at Paradise of Pages and I, Kristalyn at The Sarcastic Palmtree, came up with. We have been wanting to re-read some of our favorites but feel overwhelmed by all the other new books coming out that our re-reads get put to the side. We have decided we don't want to put them aside anymore, so we will be taking turns putting up our reviews on our blogs throughout the month. This does not mean we won't keep up with recent releases as well, it just means we will make more time for those we have read before as well.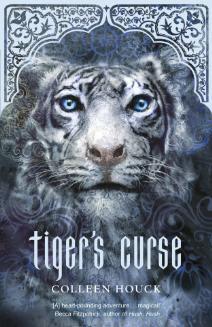 Passion. Fate. Loyalty.


Would you risk it all to change your destiny?
The last thing Kelsey Hayes thought she'd be doing this summer was trying to break a 300-year-old Indian curse. With a mysterious white tiger named Ren. Halfway around the world. But that's exactly what happened. Face-to-face with dark forces, spellbinding magic, and mystical worlds where nothing is what it seems, Kelsey risks everything to piece together an ancient prophecy that could break the curse forever.
Tiger's Curse is the exciting first volume in an epic fantasy-romance that will leave you breathless and yearning for more

.
If you would like to read my Memory Post for Tigers Curse you can
here
.
I love the fact that I am getting to review books I love that I read long before I even thought of having a blog. Tiger's Curse is probably my all time favorite series so it is a pleasure for me to extend that love in the form of a review on my blog.
At First Sight
I usually use this segment to tell you how I feel about the cover of the book, which I definitely love, but in addition I would like to give a shout out to my sister Suzanne who introduced me to this series. Before I had a blog and read blogs, the only way I would find out about new books was to hear about them from other people or find them myself by looking at the library or a book store. Suzanne's glowing recommendation was the reason I gave this series a look at all so I give her full credit for bringing the tigers into my life.
Characters & Relationships
The characters in this book are amazing. I love how they are brought in one at a time and how they are developed throughout. I have to remember that Kelsey is 17 when I have a hard time with some of the frustrating things that she does but I think that's something that makes her character believable. I love Ren a whole lot. I love him as a tiger and as a man. I like how some of his animal instincts blend into his character when he is a man. I also want to briefly mention Kishan, Ren's brother who we are introduced to in this book and Mr. Kadam, who is so loyal and brilliant you can't help but enjoy what he brings to the story.
Is This a Kissing Book?
Tiger's Curse definitely has it's moments of being romantic and tense, but I don't find it overflowing with romance. I like the balance of adventure and romantic feelings and as an answer to the above question, yes there is kissing. Not too much. Not too little. Just right!
Don't Leave Me Hanging
Sorry folks but this one will leave you hanging. Tiger's Curse is the first in a 5 book series and has a novella that came out...yesterday!
The Best Gems
Tigers
Handsome Princes
Lemon Water
First Class Everything
Jungle Adventures
Ancient Stories from Mr. Kadam
Rajkumari
Gifts of the Goddess Durga
The Sum Up
This book is amazing. I could gush all day long about why I love it so much. If you like books with adventure, romance, and, well, VERY handsome princes, this book is for you. I love books that have lots of detail, but don't bore me with all the details while I'm reading. Tiger's Curse moves along well while also giving you everything you need not to feel lost. As I said before this is my favorite series and it is fun for me to indulge once again in a book that I love so much!
Here's how Memory Lane Monday works:
Each week the co-hosts will trade off with recapping when it is a re-read or what they have heard so far about the book and the other co-host will put up their review.

The participants can read anything that they remember reading in the past, or something that they have wanted to read that has been around for a while and just haven't gotten around to reading it yet for whatever reason.

Participants can decide if they want to recap the book before reading it or just put up a review of what they read.

Anyone can join in, just please link back to our blogs as well as add your name to the linky so we can hop around and see what everyone is reading.

Please put our banner on your post as well, so we all look the same!

We ask you kindly to follow BOTH of our blogs.

Most importantly remember to just have fun! :)
We will be providing each week a linky that you will be able use to link your posts for us and everyone else to see as well. All we ask is for you to put up our banner as well as a link back to both hosts on your post.