Memory Lane Monday is a weekly meme that Amber at Paradise of Pages and I, Kristalyn at The Sarcastic Palmtree, came up with. We have been wanting to re-read some of our favorites but feel overwhelmed by all the other new books coming out that our re-reads get put to the side. We have decided we don't want to put them aside anymore, so we will be taking turns putting up our reviews on our throughout the month. This does not mean we won't keep up with recent releases as well, it just means we will make more time for those we have read before as well.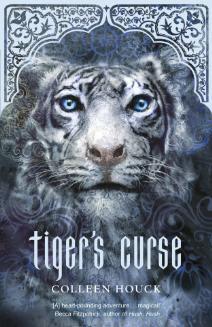 The last thing Kelsey Hayes thought she'd be doing this summer was trying to break a 300-year-old Indian curse. With a mysterious white tiger named Ren. Halfway around the world. But that's exactly what happened. Face-to-face with dark forces, spellbinding magic, and mystical worlds where nothing is what it seems, Kelsey risks everything to piece together an ancient prophecy that could break the curse forever.




Tiger's Curse is the exciting first volume in an epic fantasy-romance that will leave you breathless and yearning for more.
I am so looking forward to reading this book again that I just want to throw a party! I have been dying for a reason to get back to this series and now, here I go!
I have a hard time with book details. I know the basic reasons I liked a book, but I have a hard time remembering details that happened to the characters. I remember thinking this book had a bit of a slow start. Kelsey is a fairly likable character from what I remember and I know Ren is the most awesome tiger ever! He isn't just a tiger, he's a prince, but you don't know that yet because it's all part of the curse.
I love the world that Tiger's Curse is set in. I remember there are lots of little details but I don't remember what they are as they try and do what they need to to break the curse. I am looking forward to adventuring with Ren and Kelsey again and going on their quest to break the curse.
Join me next week for my review after I have read this fantastic book again. If you want to join me in reading this series then jump on board! It is probably my favorite series of all time and I would love to have people to talk with about it as I read it this time!
Here's how Memory Lane Monday works:
Each week the co-hosts will trade off with recapping when it is a re-read or what they have heard so far about the book and the other co-host will put up their review.

The participants can read anything that they remember reading in the past, or something that they have wanted to read that has been around for a while and just haven't gotten around to reading it yet for whatever reason.

Participants can decide if they want to recap the book before reading it or just put up a review of what they read.

Anyone can join in, just please link back to our blogs as well as add your name to the linky so we can hop around and see what everyone is reading.

Please put our banner on your post as well, so we all look the same!

We ask you kindly to follow BOTH of our blogs.

Most importantly remember to just have fun! :)
We will be providing each week a linky that you will be able use to link your posts for us and everyone else to see as well. All we ask is for you to put up our banner as well as a link back to both hosts on your post.